Scottsdale Christian Academy (SCA) is a Christ-Centered covenant Christian school in our 5th decade in metropolitan Phoenix.  SCA offers an environment of consistency, dedicated to our mission, where we encourage creativity, ingenuity, and continuous improvement.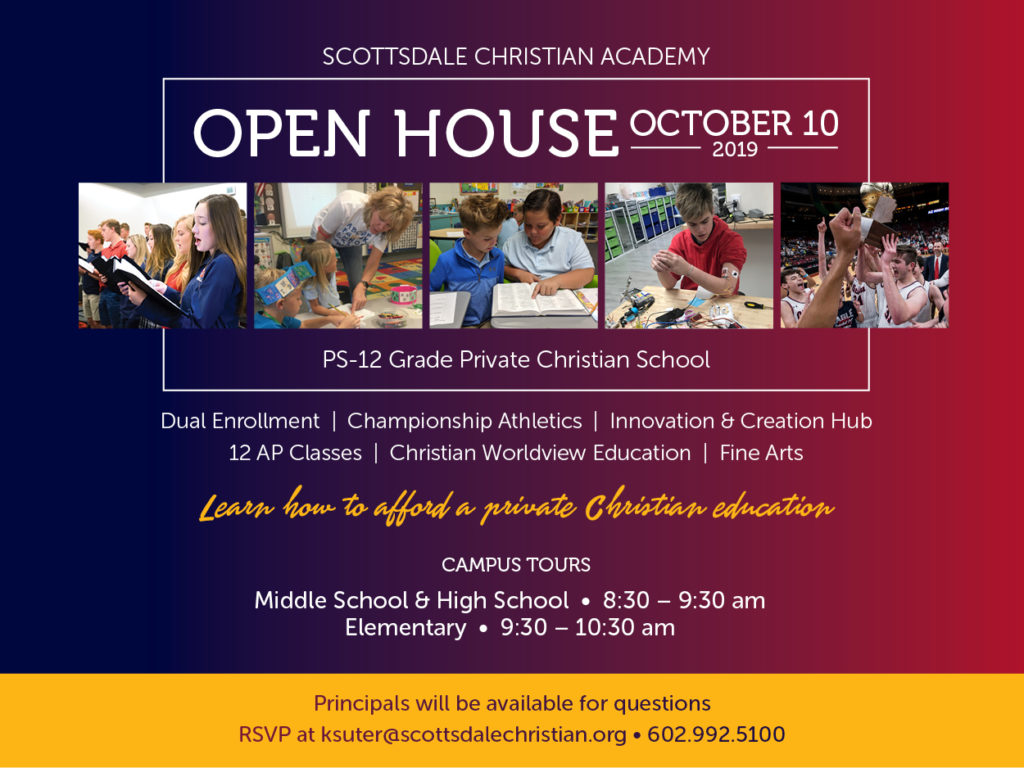 One of SCA's biggest strengths throughout the years has been its amazing dedicated staff.  The longevity of service to our school is impressive.
The role of prayer at SCA is a central part of our history.  A Christian worldview is sustained on campus through weekly chapels, student small groups, a spiritual life team, faculty devotions, and biblically integrated curriculum maps in every subject.
The Innovation and Creation Hub, a state-of-the-art facility on our campus.  the HUB is the fulfillment of a dream to provide a space that incorporates STEAM (Science, Technology, Engineering, Arts and Math) activities at all grade levels.
Missions Week is a distinctive feature of our student life.  From Nashville to Ecuador (and many places between) students and faculty annually commit an entire week to love and serve in the cities in which they are sent.
SCA offers a variety of programs serving the needs of its students through a solid college-prep academic program, with over twenty Advanced Placement (AP), honors, and dual enrollment courses.

Join us for the next Community Open House and let us share our Eagle Pride.
November 21

December 12

January 11  (Saturday 9-11 AM)

February 6

March 5

April 16

May 14
8:30 AM to 9:30 AM: Middle School and High School Tours
9:30 AM to 10:30 AM: Elementary Tours
Phone:
602-992-5100